Shall We Dance #Spain

August 4 to August 9, 2020
Highlights of Shall We Dance #Spain
Shall We Dance #Spain is geared toward Pro-Am and Am-Am ballroom dance competitors who want to perfect their dancing with some of the best professional coaches from the United Kingdom.
Discover Spain's small city of Elche, capital of the El Baix Vinalopó district of the Valencia region.
Immerse yourself in a world of Ballroom Dance (note this program focuses on international styles of Ballroom and Latin only).
Enjoy a perfect balance of dance, relaxation, local culture, and fun with an immersive dance experience in a unique location.


Learn from experienced teachers chosen for their quality of teaching and ability to guide their students to success in competition. 

Student-teacher ratios of 1 to 4.

Daily stretching/yoga class for dancers.

Flamenco lesson and show.
Gourmet dinners, exclusive shows, and an exceptional dance floor.
| | |
| --- | --- |
| Trip Length | 6 days/5 nights |
| Start/Finish | Alicante, Spain |
| Dance Rating | Geared towards Competitive Dancers |
| Included | Hotel accommodations, all meals, workshops and masterclasses, one yacht excursion, 3 hours group lessons per day, Flamenco Class, evening events. |
| Hotels | Included in pricing. |
*Price £3,399
Book before November 01, 2019 and get 3 private lessons included. Contact info@eviactive.com for more information.
Every day includes the perfect balance of dance, relaxation, local culture and fun. Enjoy immersive dance experience at the unique Huerto del Cura in Elche.
Experienced teachers guide students through technique and styling. Improve your competition skills.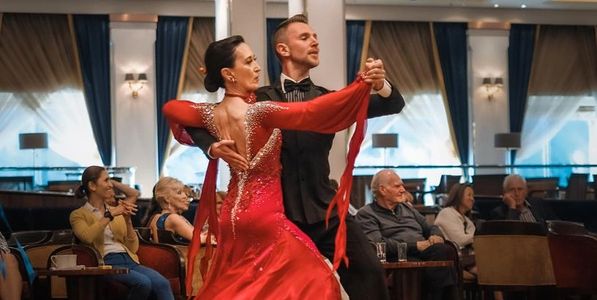 You can book individual lessons (not included in package price) with one or more of our professionals to give your dance skills that extra boost, and learn from their individual experience and skills. We have multiple teachers, including specialists in Latin, Ballroom, American Smooth and Flamenco. 
We have planned a great variety of evening events including gourmet dinners in the beautiful gardens of the hotel and exclusive shows in our elegant ballroom. And your holiday won't end there!  We wouldn't bring you to Spain without giving you the opportunity to board a yacht and set sail for an island beach…
The Shall We Dance Ltd Team
Sergiy Bondarenko is a talented professional Latin and Ballroom dancer, choreographer and teacher and is part of the Shall We Dance Ltd school based on London and the South East corner of England. Sergiy teaches all levels of aspiring ballroom dancers and creates in them a love of dancing and training. He gives his students the confidence opportunity to take part in competitions both locally and internationally with great success.
A former competitive dancer, and Latin Champion in the Ukraine, Sergiy has also performed and toaght dancing on Cunard and Seabourne cruise. Want to know what else Sergiy is doing with the Eviactive Team?
Click here.
*Airport transfers available upon request – fees apply. Private lessons available. We suggest pre-booking these lessons as spots fill up quickly.
Tags: Spain, ballroom dance, luxury travel